With most of the summer showcase tournaments out of the way, we can now get a better look at some exciting rookies to look forward to watching during this upcoming NHL season! It's no secret that the past two draft classes have not had a shortage of talent, with guys getting drafted and almost immediately jumping into a starting role on an NHL roster. According to the NHL rulebook, to be considered a rookie, "a player must not have played in more than 25 NHL games in any preceding seasons, nor in six or more NHL games in each of any two preceding seasons. Any player at least 26 years of age (by September 15th of that season) is not considered a rookie." What this means is that if a player was drafted during the 2018 Draft and played in less than 25 games during that season, he would then still be considered a rookie for the following season. Let's take a look at some NHL Rookies that we are excited to watch during the 2019-2020 season!
1: Jack Hughes
At this point, everyone knows the name Jack Hughes. Hughes was drafted number one overall by the New Jersey Devils in this years' 2019 NHL Draft. Coming from the NTDP Program in the United States Hockey League, he was able to put up insane numbers with 2.00 points per game. Arguably the highest-touted rookie to enter the league since Connor McDavid in 2015, Hughes is an incredible skater who uses his edgework to his advantage to make crafty plays and passes. Paired with his skating ability is his ability to read and process the game at top speed. This is especially evident when he is in tight spaces like the slot area, right in front of goalies. His on-ice vision, playmaking abilities, and crafty stickhandling skills have drawn comparisons to Chicago Blackhawks superstar Patrick Kane. We are anticipating that Hughes will be game-ready on opening night with the Devils!
2: Quinn Hughes
Quinn Hughes, brother of Jack Hughes, was drafted in the 2018 NHL Draft. Unlike Jack, Quinn is a defenseman. Quinn Hughes is an elite-level Defenseman who spent his collegiate days at the University of Michigan. While Quinn Hughes is not the largest defenseman, he makes up for that with his skating speed and ability, allowing him to maneuver away from attacking players. He also excels at passing the puck and skating it up the ice. He is crafty and possesses great stick handling that allows him to feel comfortable enough to skate the puck up the ice, without becoming a defensive liability. Although Hughes was drafted to the Vancouver Canucks in 2018, he decided to finish out his sophomore year with Michigan, which ended up being the right choice, as they went on to win the NCAA Championship that year. The following season, in 2019, Hughes played most of his time in Michigan, but did get called up for five games with the Canucks. We look forward to watching Hughes from day one of the season with the Canucks.
3: Kaapo Kakko
The battle for the number one overall pick between Kaapo Kakko and Jack Hughes could not have been closer, and it came down to the wire as to who would end up being selected first. The Devils selected the Centerman, while the New York Rangers were able to select the young Finnish star Kaapo Kakko. The Right-Handed Left Winger spent his youth days playing in the top Finnish division, Liiga, where he played as a 17 and 18 year old against full-grown adults. He was able to hold his own and do quite well, due to his stature. Standing at 6'2" and weighing in at 190 pounds, Kakko has already had time to learn how to use his size and strength to his advantage. This was quickly apparent during the most recent U20 World Junior Championships. However, despite his size, he is deceptively quick and is an exceptional stickhandler, even in tight spaces. Paired with this is his exceptional shooting ability. It is no question that he is one of the best pure snipers in this years' draft class, allowing him to hit open corners quickly and with power. We are looking forward to watching Kakko on opening night, and also the newly revitalized rivalry between the Rangers and Devils throughout the season!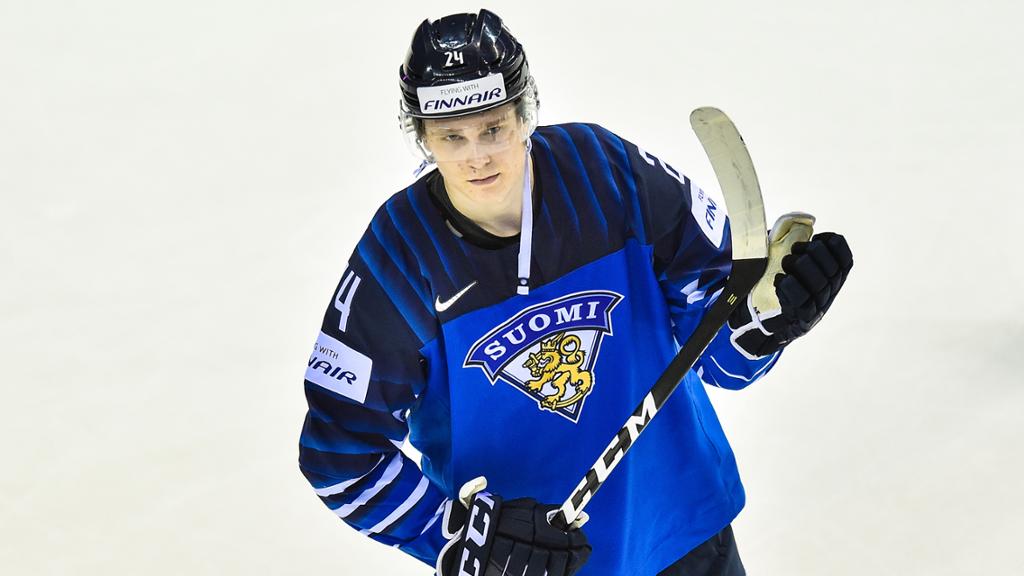 4: Cale Makar
The Calgary, Alberta native was drafted by the Colorado Avalanche in the 2017 NHL Draft. Makar spent his Freshman and Sophomore years at the University of Massachusetts Amherst, where he developed his skills. At the end of his Sophomore year, he was awarded the Hobey Baker Award, crowing him College Hockey's best defenseman. Makar joined the Avalanche in game three of their playoff series against the Flames, where Makar scored his first NHL goal on his first career shot. Makar has currently played in ten NHL games, all of which have been playoff games. In those, he looked calm and composed for the most part, especially when skating with the puck. Additionally, if there was a defensive miscue leading to a fast break for the other team, he showed great skating speed and effective use of his stick to break up plays. We look forward to watching Cale Makar and the rest of the Avalanche's talented young core from day one!
This article was originally published on September 6, 2019, and has been updated with new information.