What a season it was for NHL rookies throughout the league, with most of the spotlight and hype surrounding the first and second overall draft picks, Jack Hughes of the Devils and Kaapo Kakko of the Rangers. Both started to come into their own and show highlights of elite-level skill while both playing for underperforming teams.
However, it was two rookie defensemen who lead the league in rookie scoring. Yes, you read that right…defensemen. Quinn Hughes, defenseman for the Vancouver Canucks and Cale Makar, defenseman for the Colorado Avalanche. Both of these guys were drafted a couple of years ago, but are still considered rookies as they weren't at the minimum number of games played. Both opted to play another season with their NCAA D1 clubs.
Moreover, Hughes and Makar finished first and second in rookie scoring with 53 points in 68 games played for Hughes and 50 points in 57 games played for Makar. Making this (two defensemen leading the rookie in scoring) even more incredible is that it is the first time it has been done in the Modern Era of the NHL (1943-1944)!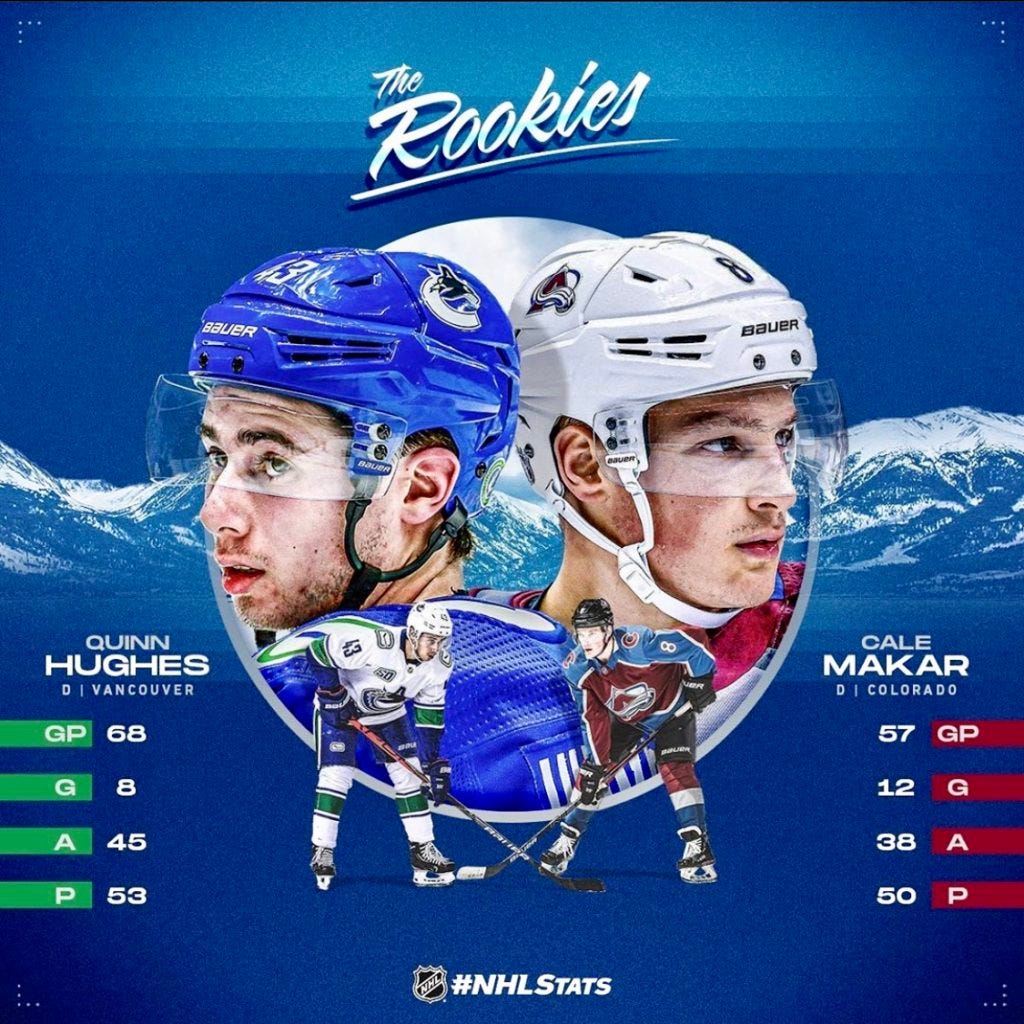 Not only do Hughes and Makar boast great rookie numbers, they are also key pieces for their respective team's success. The Canucks, powered by three young guns Quinn Hughes, Elias Pettersson, and Brock Boeser, managed to reach 4th in a tight Pacific Division and 7th overall in the Western Conference.
Makar is also one of the key pieces of a powerhouse Avalance roster, headlined by himself, Nathan MacKinnon, and Mikko Rantanen, to name a few. The Avalanche sit 2nd in the Central Division and 2nd in the Western Conference. Some NHL analysis actually predicted to go to the Stanley Cup Finals before the season started.
Who gets your nod for Rookie of the Year – Hughes, Makar, or someone else? Let us know in the comments!
As the NHL returns to play we are excited to see how these, and the rest of the rookies, perform when it matters the most.
In the meantime, be sure to stay up to date with our latest content here.
This article was originally published on June 4, 2020, and has been updated with new information.