Warrior's all-new protective line, known as Alpha DX, is an overhaul on their ever-popular Alpha QX line from 2017. Previous iterations were designed to optimize fit, feel, and protection. Continuing this, a few tweaks were introduced to key areas within the Alpha DX gloves, shoulder pads, elbow pads, and shin guards, helping create Warrior Hockey's most advanced protective line to date!
Warrior Alpha DX Gloves
While the Warrior Alpha DX Gloves may look like your old-school traditional 4-roll glove, the Warrior Alpha DX Gloves will actually have what is known as a Hybrid Taper Fit. What this does is allow the glove to contour to the natural shape and flex of your hand, allowing for improved mobility and elite protection. This hybrid idea extends up into the wrist, as well, utilizing what Warrior calls their Hybrid Flex Cuff. This cuff extends your range of motion, helping improve your puck handling and shooting, without having to give up any of the wrist protection!
The Buttersoft feel of the Alpha DX Gloves, combined with the Hybrid Taper Fit, gives you an "already broken-in" feel and are game-ready as soon as you put them on!
Warrior Alpha DX Shoulder Pads
The Alpha DX Shoulder Pads feature Warrior's Dynamic Strike Technology designed to give players superior fit, protection, and mobility. This goes hand in hand with the new low-profile dynamic shoulder caps! This design provides players with a lightweight feel and sleek look while providing maximum protection against direct impacts.
Warrior's DX shell was also used on the Alpha DX Shoulder Pads. This compression molded EVA foam with Warrior's Shell Skin Texture provides players with an extra layer of protection in high-impact areas like the biceps and lower ribs. Plus, it gives the pads a unique, rugged type of look.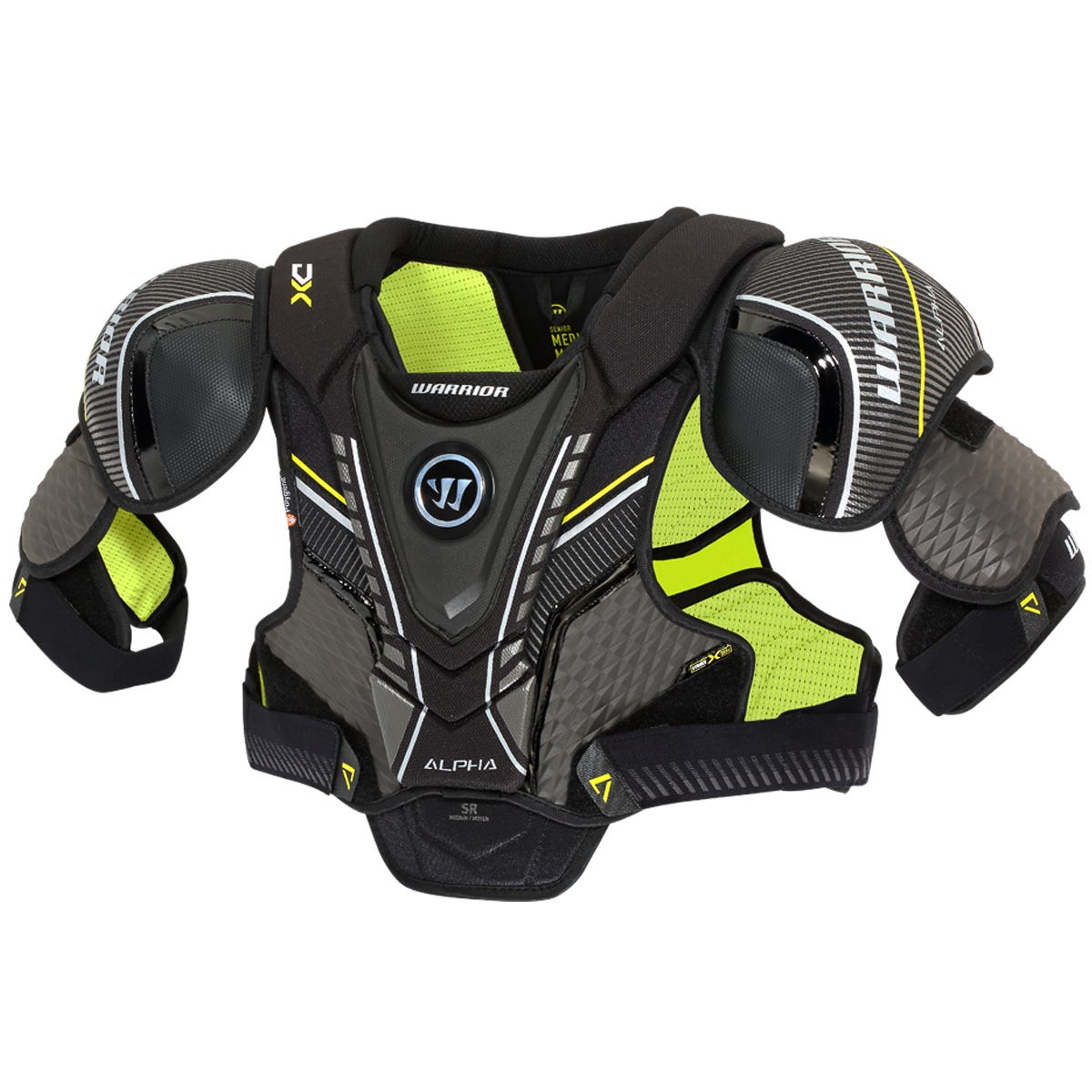 Warrior Alpha DX Elbow Pads
The Alpha DX Elbow Pads also feature Warrior's Dynamic Strike fit with the DX shell, covering most of the forearm and providing players with elite protection against stick checks.
Further enhancing the fit and feel, Warrior has given the Alpha DX Elbow Pads an all-new three-piece design! This allows for more natural movements and maximum dexterity of the elbow. This design aims to eliminate the big, "bulky" fit and feel of traditional two-piece elbow pads. Paired with this is Warrior's new Wartech Stretch Sleeve that helps the pad stay stationary when you are out there on the ice ripping pucks into the back of the net!
Warrior Alpha DX Shin Guards
The tapered fit of the Alpha DX Shin Guards look to provide superior fit, protection, and mobility. Paired with the Dynamic Strike fit, the Alpha DX Shin Guards feature a sling wrap strapping system that secures the knee into a specifically engineered knee pocket. This provides a secure, yet comfortable, fit that helps disperse direct impacts from pucks and stick checks!
Get your hands on the new Warrior Alpha DX Protective gear and Gloves on April 17th on HockeyMonkey.com!
This article was originally published on April 12, 2019, and has been updated with new information.