After getting drafted first overall by the Washington Capitals in the 2004 Draft, Alex Ovechkin essentially became the face of the franchise almost overnight. Everyone knew this kid was a big, physical left winger with a wicked shot. And Ovechkin's impact was evident right from game one. He would finish his rookie season with an astonishing 106 points and 52 goals. Furthermore, his first five seasons in the NHL, Ovechkin amassed 529 points (269 goals) in just 369 games, with a number of those goals still regarded as some of the best goals of all time. For example, his on-the-back, behind-the-back, goal (best name we could think of) against the Coyotes in his 2006 season. Check it out below:
So, prior to getting drafted by the Capitals, scouts, coaches, and just about everyone else knew this kid could score goals. But what they didn't know at the time was that he would go on to be one of the best, if not THE best, goal scorers the league had ever seen, winning the Rocket Richard trophy (trophy for leading the league in goals), an NHL record eight times.
Following the lockout year in 2012-2013, Ovechkin went on to score 50+ goals in each of the next three seasons. This was right around the time people started bringing up the conversation of whether Ovechkin has a shot at breaking the all-time goal-scoring record.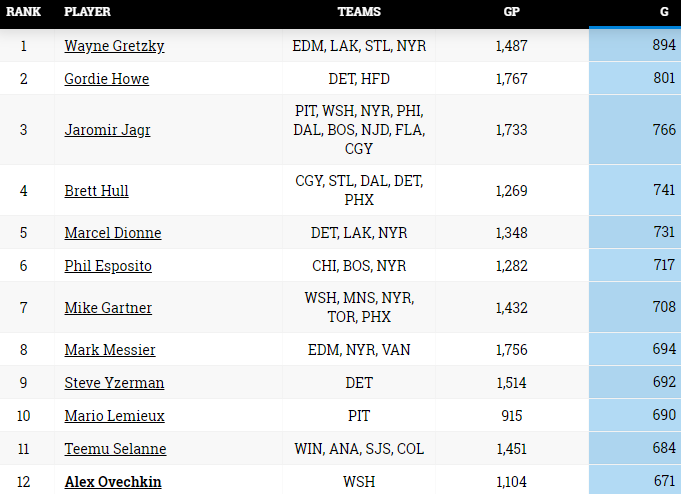 Fast forward to the 2019-2020 season, and Ovechkin is sitting at 12th all-time with 671 goals in an era where defenses are more complex, and players are bigger and faster than ever before. And now, that conversation is in full force, so we have decided to take a quick look at the numbers, do some math, and determine if he has a shot at breaking the record.
Wayne Gretzky is the leader in career goals with an almost unimaginable 894 goals, which puts Ovechkin 223 goals behind him. Now that number sounds like a lot, but for a guy who has averaged almost 48 goals a season, it puts it into perspective. After doing some simple math, if Ovechkin scores 55+ goals for the next four seasons, he would break the record. But, at the age of 34, 55+ goals over the next four seasons straight would be tough. However, it is likely that Ovechkin will play longer than four more seasons.
So, let's look at if he were to play another 6 full seasons, which would take him to 40 years of age. If this were the situation, he would need to average around 37 goals for the next six seasons to break the record. Realistically, we think this is the situation that Ovechkin will go with, and we believe it is possible. Ovechkin needs *just* 29 more goals on the season, to get him to 700 career goals. This would bump him up to 8th all-time, passing guys like Mario Lemieux and Steve Yzerman. And hypothetically, another 40 goals the following season would put him just behind Brett Hull at the number 5 spot.
If there is anyone that truly has a shot to break the all-time goal record, it would be Alex Ovechkin, and we're definitely rooting for him. To proudly show off your favorite team, shop our full selection of NHL merchandise today!
Be sure to let us know your thoughts on Instagram, Facebook, or Twitter!
This article was originally published on November 15, 2019, and has been updated with new information.