One of the most important and best ways to increase comfort and stamina over the course of a full hockey game is properly fitting ice hockey skates. All major hockey skate brands offer two fit types; a standard fit (R) and a wide fit (E). This article will cover what the best hockey skates for wide feet are, indicators that you may need wide hockey skates, and so on. If you know what you're looking for already, check out our full selection of hockey skates!
In this article, we'll cover:
Overview: Highlighting the technology on the Bauer Supreme M5 Pro Hockey Skates is the 3D Lasted Carbon Curv Composite Boot build paired with Bauer's new Fit 3 fit. This setup is specifically tailored for players with wider feet and high arches, giving them excellent comfort and overall performance. The Bauer Supreme M5 Pro Skates get our vote for the best "bang-for-your-buck" wide skate for 2023 and beyond.
Key Features:
New Fit 3 profile is designed for players with wide feet and high arches
3D Lasted Carbon Curved Composite Quarter Package is lightweight, protective, and heat-moldable
Ability to choose the best runners for you from three different options: Carbonlite, Pulse TI and Pulse
Cons:
Not the top of the line model (but, they are up to $350 less than the highest-end model)
---

Overview: CCM's highly advanced one-piece boot SPEED technology and all new fit system, gives you a skate that is engineered to fit your exact foot shape with a boot built for pure acceleration. The ability to choose from Tapered, Regular, or Wide and get the fit that will best help you to achieve top performance. Engineered with no outsole, no stitching, and no glue in high-energy transfer zones, this boot is all about performance, acceleration, and lightness.
Key Features:
Highly advanced one-piece SPEED boot technology for more direct energy transfer and a closer fit for faster strides
Metatomic tongue, a replaceable multi-layer tongue with 7mm felt and an asymmetrical flex point will better fit to your foot shape while offering advanced lace bite protection
Injected smooth contour pro padding around the collar of the boot, provides improved durability and superior foot and ankle comfort; multi-density memory foam in the ankle wraps anatomically around your foot for a customized fit
Cons:
High-end skates that CCM offers mean they come at a high price point
---

Overview: Since the creation of their Pro Custom skates, True Hockey has been known to make some of the most comfortable and responsive skates on the market, and that is no different with the True TF9 Hockey Skates.
Key Features:
State of the art fitting process that allows the skate to be built to your specific foot size and shape
High-quality SHIFT runners included with the skates. Has a +2mm height to help decrease turning radius and a black onyx coating to improve glide and increase the life of skate sharpenings
Full carbon one-piece quarter package for great overall performance and weight reduction
Cons:
---

Overview: The Ribcor Skates are CCM's original "wide-fitting" skates. And the newest addition to the successful line are the new CCM Ribcor 100k Pro Hockey Skates. The heat-moldable one-piece carbon quarter package allows the skate to perfectly form to your specific foot shape providing a comfortable and efficient fit all game long.
Key Features:
One-piece Monoframe boot design better forms to the exact foot shape and size to eliminate any negative space and improve stride efficiency
XS tongue system - 7mm replaceable felt tongue that features an asymmetrical flex-point to better fit your foot shape and add protection against lace bite
Speedblade XS holder allows you to change out your runners on the fly thanks to the positive-lock dial on the back
Paired with STEP blacksteel that features a carbon coating on them which will help your sharpenings longer. Also taller in height to help tighten up your turning
Cons:
---
Overview: The Bauer Supreme M4 Hockey Skates are a great option for players who want some high-end specs, but without breaking the back. These skates are one of the best values for the money!
Key Features:
The wide-profile quarter package is constructed of Bauer's 3-D composite material that is lightweight, protective, and has just the right amount of stiffness
A hydrophobic microfiber inner liner helps to lock the foot into place for maximum stride efficiency. Also, wicks moisture away from the foot for enhanced comfort
Cons:
Not the highest-end model, but great value for the price
---
Overview: The Bauer Nexus 2N Hockey Skates are still a great option for players who need skates to accommodate wider feet.
Key Features:
Wide-profile boot constructed with Bauer's Curv composite material. Highly protective, durable, lightweight. Very responsive to heat-molding to form to the shape and size of your foot
2-Piece Form-Fit tongue with a reinforced metatarsal guard offers enhanced protection and comfort
Hydra Max 2 inner liner adds durability in the high-wear areas like the ankles. Also, wicks moisture away from the foot for enhanced comfort
Paired with the Form-Fit+ footbeds that form to your foot shape and helps keep feet comfortably locked in place.
Cons:
Older model but still a great option for wide feet, especially for the price
---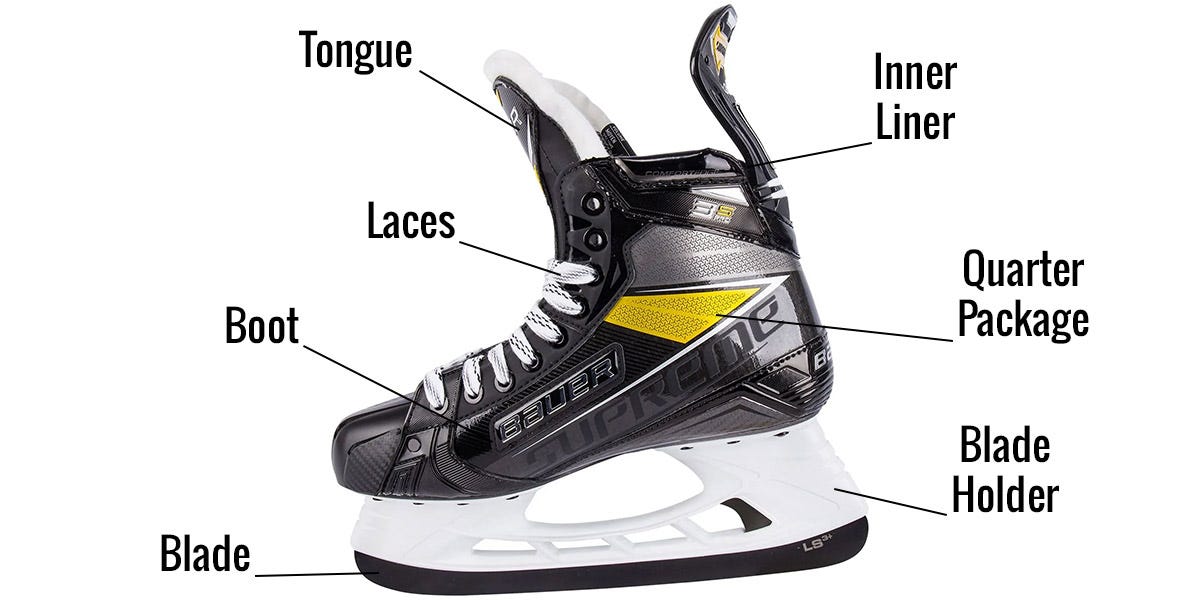 Understanding the components of ice hockey skates can give you a better idea of what you are looking at and what would fit your specific needs when it comes time to buy a new pair!
Boot: The Hockey Skate boot is the part that your foot goes into, which includes the toe cap. It is made up of a number of different components including the toe cap, heel, and outsole.
Quarter Package: This is the main part of the boot, excluding the toe cap. It is usually made of lightweight carbon materials that are reactive to head-molding so they can better form to specific foot shapes. Usually pretty rigid as well to help improve skating quickness during crossovers and skating strides.
Inner Liner: The primary goal of the inner liner of the hockey skates is to wick moisture away from the foot during gameplay to increase comfort. The Inner Liner is also great for helping dry out the skates after gameplay.
Laces: Skate Laces help hold everything together. They come in two options; waxed and unwaxed and both have their pros and cons.
Tongue: The Skate Tongue is the piece that lies just below the skate laces. The skate tongue provides an additional layer of comfort and protection as they are made of a thick felt material.
Blade: The Skate blades, or Runners, are the steel part of the bottom of the skate that makes contact with the ice. Constructed out of stainless steel. A number of factory or aftermarket options to choose from, some of which feature a black coating for enhanced longevity on skate sharpenings or taller in height for a tighter turn radius.
Blade Holder: The blade holders are the piece towards the bottom of the skate between the blades and the bottom of the boot. It is the part of the skate that holds the blades. Constructed out of durable plastic. Most major skate brands offer holders with quick-swap mechanisms, allowing you to change out your runners on the fly.
How to Choose the Right Size Hockey Skates
A good place to start when determining hockey skate size is to go down 1.5 sizes from your shoe size. However, there are a number of different factors to consider including skate width, stiffness level, and so on. It is important to determine these factors before purchasing your new pair to ensure good comfort, protection, and performance. For more information, check out our complete guide to hockey skate sizing.
Top Hockey Skate Brands for Wide Feet
HockeyMonkey carries top-of-the-line skates from all of the major hockey skate manufacturers around the world.
CCM offers the most options when it comes to fit with three. The JetSpeed skates feature a narrow fit, the RibCor skates are a bit wider, and the Super Tacks are the best hockey skates for wide feet.
As of 2021, Bauer offers two skate models, the Supreme line and the Vapor line, each with three different fits. Fit one is low volume with narrow width, fit two is medium volume with medium width, and fit three is high volume with a wide width.
True Hockey is the newest on this list, but that should not deter anyone. They have the most extensive fit and build process out of all major brands, building custom skates that fit your exact foot shape and size.
Find the Best Selection of Hockey Skates for Wide Feet at HockeyMonkey!
At the end of the day, if you have wide feet, you will want to get wide hockey skates. Other factors to consider from there are all personal preferences depending on your specific skill level, how often you skate, and so on. For a good head start, you can browse our full selection of hockey skates!
This article was originally published on September 13, 2021, and has been updated with new information.