Ice Hockey Elbow Pads protect the sensitive elbow area from a variety of impacts during games, like slashes, blocked shots, falls onto the ice, and so on. So, to maximize their effectiveness, finding the proper size is imperative. This guide will go over what elbow pads are made out of, how they should fit, and some considerations to keep in mind when looking to buy a new pair.
Elbow Pads Components
The Bicep Guard is great for force-type impacts such as body checks and contact with the boards.
The Forearm Guard protects the top half of the forearm and does a great job of protecting the player against slashes.
The Elbow Pad helps protect the sensitive elbow joints from falls onto the ice.
Usually constructed of hard plastics, the Outside Arm Slash Protection does a great job of dispersing the force of direct impacts, such as slashes and blocked shots.
The Inner Liner of elbow pads helps eliminate moisture, giving players a dry and comfortable fit.
How Should Elbow Pads Fit?
When trying on elbow pads, be sure that the fit is snug enough to stay in place during play, but not too tight as to constrict your mobility. You need to be able to move freely without the pads shifting. Most elbow pads are adjustable, so if you find a pair that feels good on your arm. Try adjusting the velcro straps to get a better fit. When fastened securely, the elbow pad should meet the shoulder pad and cuff of the glove without a gap. If they still move, then they're probably too big. If you wear a short cuff style glove, you'll want to go with the longer style elbow pad.
Hockey Elbow Pads General Sizing Chart
When measuring for arm length, measure the length between the bicep guard on the shoulder pads to the cuff of the glove. Find the corresponding number on the sizing chart to help indicate what size you will need.
Elbow Pad Considerations
Along with finding the right size for your elbow pads, there are a few other considerations to keep in mind when looking for a new pair to buy.
How long do elbow pads last? There is no set time as to how long elbow pads last. Things to factor in are level of play, how often you play, and how well your care for the pads are. If you skate every day at a high level, there is a chance you will need new elbow pads before a player who plays in a recreational league once a week. Signs indicating that you need new elbow pads are; the elastic or velcro are worn down, if the pads are worn down to the point where you can see the inner padding, or if there are any deep tears.
What is the price range for elbow pads? New elbow pads can range from $20 up to $150, depending on size, quality, and protection.
What materials are elbow pads made out of? Going hand in hand with the answer above, elbow pads on the lowest end of the pricing spectrum are made entirely out of foam. Higher quality pads utilize a blend of high-density foams and plastics to help absorb the force of a variety of impacts.
What are the best brands for elbow pads? All major hockey equipment manufacturers have at least one line of elbow pads. This included CCM, Warrior, Bauer, True, and Sher-Wood.
Any other questions or considerations? It might also be important to factor in what type of fit you want when looking for a new pair of elbow pads. Most brands have two "lines" of elbow pads that fit differently. For example, CCM's JetSpeed line has a more low-profile, mobile fit, where as their Super Tacks line focuses on a traditional, maximum-protection type of fit. Finding the right fit here comes down to personal preference and playstyle.
Sizing by Brand
When shopping online, reference the sizing chart that corresponds to the model you want to buy. Your options will likely be Small, Medium and Large. To find your correct size, put on your shoulder pads and gloves and measure the space between the cuff of your glove and the tip of your shoulder pad. You'll probably need someone else to do this for you to ensure an accurate measurement. Match this number to the size of the elbow pads (in inches).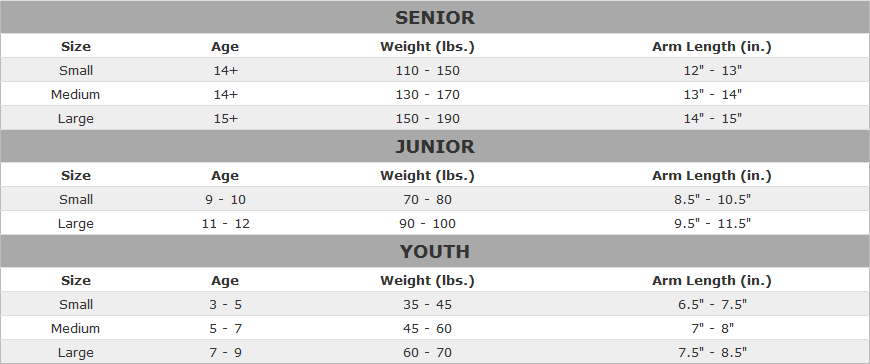 HockeyMonkey Knows Elbow Pads!
If you are looking for a new pair of Elbow Pads, head over to any one of our MonkeySports locations across the United States and speak to an employee, where they can help you find the perfect pair!
This article was originally published on January 24, 2020, and has been updated with new information.