Back in July of 2018, CCM unveiled their Hybrid kick point on their first-generation JetSpeed stick. This year's iteration, aptly named the JetSpeed FT2, is headlined by that same ever-popular hybrid kick point! Additionally, it has been redesigned for the speed of today's game making it CCM's most advanced hockey stick to date!
Diving a little bit more into the Hybrid kick point, this concept utilizes what is known as a power hinge effect. Starting right below the JetSpeed logo, there will be a soft flex point in the shaft immediately followed with a stiff flex point. That is then followed up by another soft flex point, hence the "hinge" concept! This means optimized flex zones that create a perfect balance of shot velocity and responsiveness, allowing you to get the puck off your blade as quickly as possible! After using this stick for the past month, I noticed almost immediately how comfortable I felt taking shots from anywhere within the offensive zone. As a defenseman, I was able to fire shots on net with substantial power, but anytime I got within the hashmarks, the quickness and control of the stick really stood out as well. Overall, I appreciated the snappiness and responsiveness that the JetSpeed FT2 Hockey Stick provided.
Improving upon last year's iteration, the JetSpeed FT2 Hockey Stick presents a revamped version of CCM's Sigmatex shaft construction, now going by the name of Sigmatex ST. This material is an elite-performance fabric that features an innovative weaving process, that helps provide a lightweight, but highly durable and strong, shaft. This revamped material is one of the reasons why the JetSpeed FT2 Hockey Stick is 10 grams lighter than its predecessor!
The JetSpeed FT2 Hockey Stick uses a R-type shaft shape. This design includes slightly rounder corners, concave sidewalls, and a streamlined shape from the top of the shaft all the way to the blade. Not only does this shape fit better with the natural shape of your hand giving you better control, it makes the stick more comfortable to hold as well!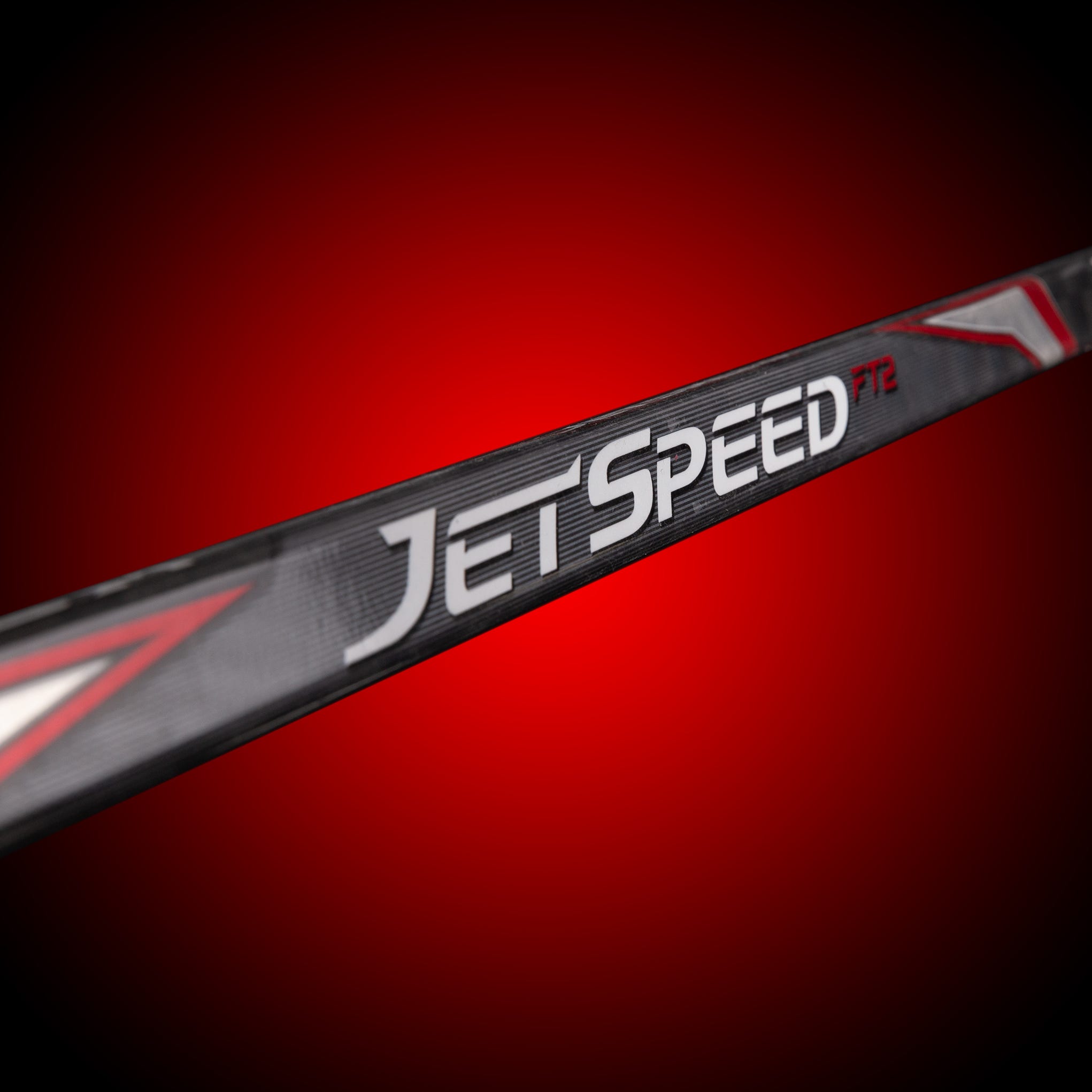 Lastly, the JetSpeed FT2 Hockey Stick uses CCM's new Jetfuel-80, or JF-80, blade! The JF-80 blade features a tactile surface along with a dampening layer on the interior, along with reinforced toe and heel areas, giving you superior feel, control, and durability!
June 28th, our full On-Ice review on the CCM JetSpeed FT2 Hockey Stick will be out as well as HockeyMonkey.com where it will be available for pre-order. The JetSpeed FT2 Sticks officially hit our MonkeySports shelves on July 26th!
This article was originally published on May 10, 2020, and has been updated with new information.