In 2018, CCM released their first one-piece boot within the JetSpeed line, the JetSpeed FT1 Hockey Skates. Brand new for 2019, CCM introduces their evolution of that one-piece boot with the unveiling of their new JetSpeed FT2 Hockey Skates! With the new LITEFRAME 360 EVO Technology, and the new SpeedBlade XS holder, there is only one word for these new JetSpeed FT2 skates….ELITE.
LiteFrame 360 EVO Technology
Improving on the already successful one-piece boot, the new LITEFRAME 360 EVO technology is the star of the show when it comes to the FT2 Hockey Skates. This seamless one-piece boot was developed with no outsole, no stitching, and no glue in the high-energy transfer zones. What does this mean? This build design provides players with a fit so close, it becomes a natural extension of their foot. The result is less negative space within the boot, giving players explosive power and speed within their strides.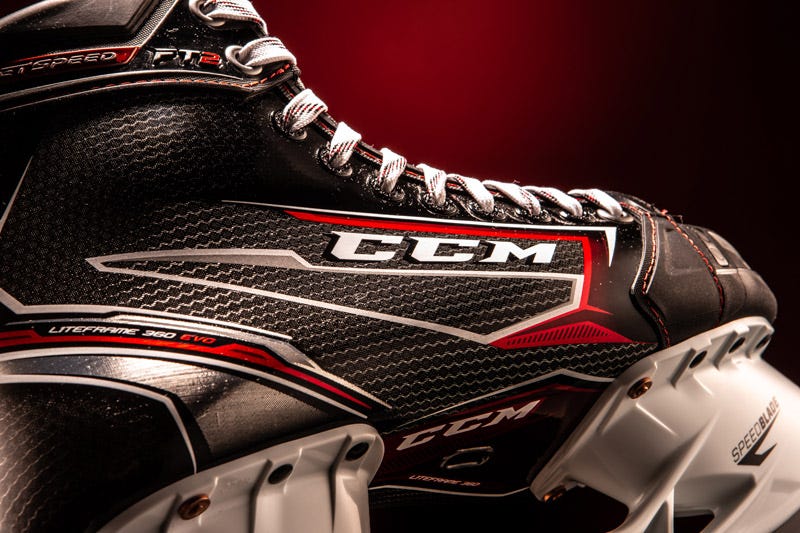 Metatomic Tongue
CCM spared no expense when it came to focus on each key component of their new FT2 Hockey Skates. They have improved the design of the tongue, now known as the Metatomic tongue. This newly designed lightweight tongue with an asymmetrical flex point fully wraps around your foot, enhancing your fit and giving your ankle more forward flexibility. This flexibility is key for getting the most power out of your skating strides.
SpeedBlade XS Holder
Another key addition that CCM incorporated into the JetSpeed FT2 Hockey Skates are their brand-new holders, known as the SpeedBlade XS holders! This new system helps players quickly and easily swap new steel out, on the fly, while ensuring players a consistently maximized energy transfer and performance. The dial on the back of each holder, known as the BladeLock dial, consists of a positive-lock mechanism that helps to tightly secure the blade in place. This consistent, tightly-secured blade maximizes the energy transfer of every stride, from the boot all the way to the blade.
Final Thoughts
With the addition of the Metatomic Tongue and the SpeedBlade XS Holder, along with the revamped quarter package the JetSpeed FT2 Ice Hockey skates are CCM's most technologically advanced skates ever produced. The CCM JetSpeed FT2 Hockey Skates are available now on HockeyMonkey.com!
This article was originally published on February 15, 2019, and has been updated with new information.