Ice Hockey Shoulder Pads provide protection for a variety of key areas within the upper body, including your shoulders, collar bones, spine, ribcage and more! In order to key these areas fully protected, this important piece of Ice Hockey equipment must be properly sized to ensure full coverage. This guide will include how to measure for the right shoulder pad size, how they should fit, along with some ideas to consider for your new Ice Hockey Shoulder Pads.
Components of Hockey Shoulder Pads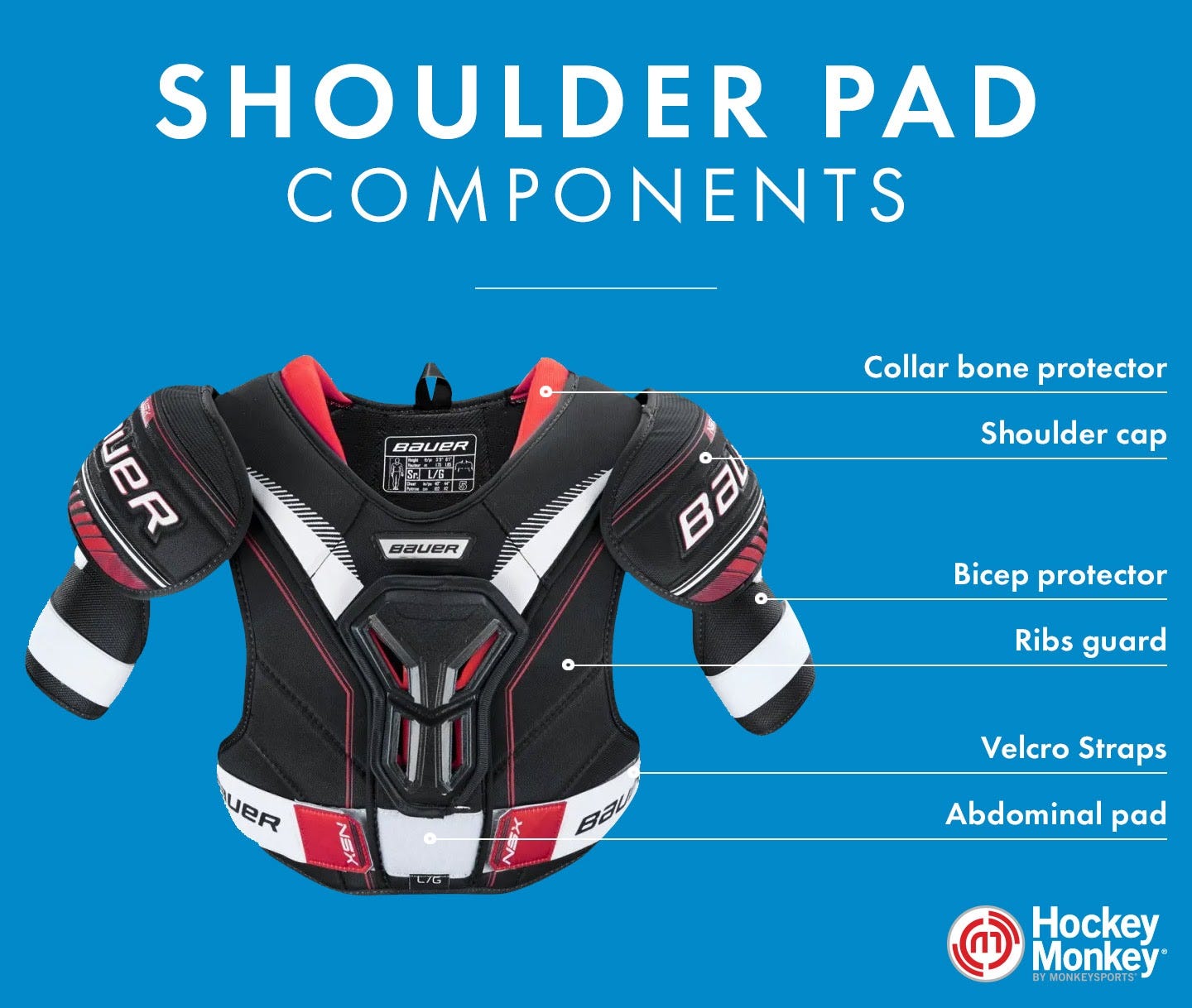 Shoulder Caps
Bicep Pads
Chest Protector
Back Protector
Rib Guards
Abdominal Pad
Taking the Right Measurement
Using a soft measuring tape, measure around the circumference of the chest, just below the armpits standing. Also, be sure to be in a relaxed state and not inhaling, as doing so could affect size. Factor this size in with your height to help narrow down a size.
How Should Hockey Shoulder Pads Fit?
Shoulder pads should fit snugly while the vital tips of the shoulder must be properly under the shoulder caps. The bicep pads should not interfere with the player's elbow pads.
Shoulder Pads are Too Small When:
Shoulder caps point upwards instead of outwards
Neckline digs into neck or shoulders
Cannot raise arms comfortably overhead
Too much skin is exposed between the top of the pants and the bottom of the shoulder pads, and between the bicep protectors and the top of the elbow pads
Shoulder Pads are Too Big When:
Neckline sags and collarbone is exposed
Pads fall off the tops of the shoulders
Bottom edges droop well below the rib cage
They overlap with the hockey pants and elbow pads, which hinder flexibility and mobility
Hockey Shoulder Pad Sizing Chart
| Pad Size | Age Range | Height | Chest |
| --- | --- | --- | --- |
| Youth Small | 3 - 4 | 3'2" - 3'11" | 20" - 23" |
| Youth Medium | 4 - 6 | 3'6" - 3'11" | 22" - 25" |
| Youth Large | 7 - 8 | 3'10" - 4'4" | 24" - 27" |
| Junior Small | 7 - 9 | 4'4" - 4'7" | 26" - 29" |
| Junior Medium | 8 - 11 | 4'5" - 4'11" | 28" - 31" |
| Junior Large | 10 - 13 | 4'10" - 5'3" | 30" - 34" |
| Senior Small | 14 - 16 | 5'4" - 5'8" | 32" - 38" |
| Senior Medium | 16+ | 5'6" - 5'11" | 36" - 41" |
| Senior Large | 18+ | 5'9" - 6'2" | 39" - 43" |
Shoulder Pad Purchase Considerations
How often should I replace / clean my shoulder pads? Shoulder Pads can last for many years depending on care, how often you use them, and the level of hockey you play. If you use them at a high level multiple times a week, there is a good chance that the velcro can wear down and become ineffective. This is a sign that you will need a new pair. To clean shoulder pads, soak them in a bathtub filled with warm water and Oxiclean (or something comparable). Take them out after a few hours, then let them air dry.
What are the top brands for shoulder pads? The top three brands for Ice Hockey Shoulder Pads are Bauer, CCM, and Warrior. Each of the three brands have various models that cater towards a certain style and play type.
What are youth league shoulder pad requirements? As per USA Hockey Rules, all players must wear all protective equipment for games, which includes shoulder pads. It is recommended that players wear shoulder pads that are specific to Ice Hockey. Also, be sure to check and see if the youth shoulder pads fit properly before each new season!
Any other considerations? Most brands have three styles of shoulder pads. For example, one style might cater towards players looking for maximum protection, while looking less for mobility. On the contrary, another style might be for players looking for maximum mobility, but with less emphasis on protection. Choosing the right fit comes down to personal preference and playstyle.
Hockey Shoulder Pad Sizing by Brand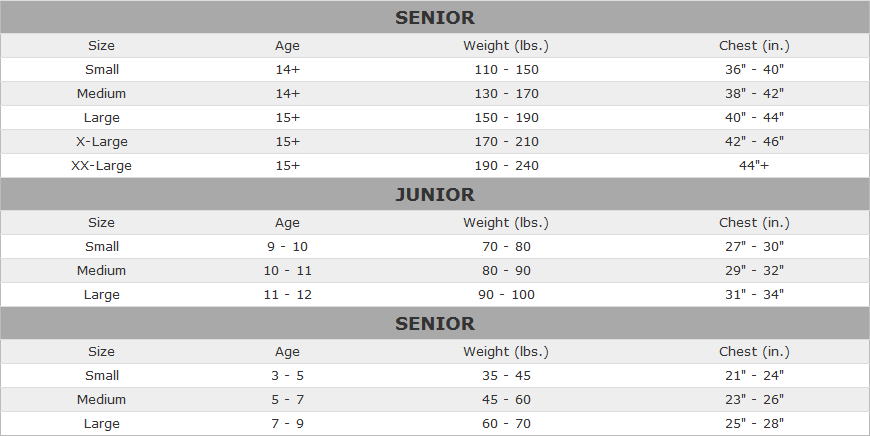 Shop for Shoulder Pads with HockeyMonkey!
Any one of our MonkeySports stores across the United States will carry a wide variety of Shoulder Pad styles from all of the major brands! Stop in and check them out, or visit our website where you can read additional information on Senior Shoulder Pads and Youth Shoulder Pads!
This article was originally published on January 23, 2020, and has been updated with new information.